| | |
| --- | --- |
| | What are Private Military (and/or) Security Companies, Contractors or Firms (PMCs / PSCs / PMSCs)? >>DEFINITION |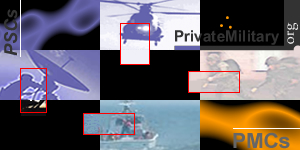 COMPANIES / CONTRACTORS
Directory / List of Private Military Companies (or PMCs), Private Security Companies (or PSCs), Risk Consultancy Firms, Security and Military Contractors, as well as Defense Contractors and Corporations, and Outsourcing Corporations and Conglomerates in related business sectors. Searching for a LIST of private military or private security firms or solutions (e.g. military & police training, business & defense intelligence, surveillance, assets & personnel protection (security details), risk analysis, UXO disposal, K-9 support, or maritime security)?: Don't be fooled by those anyone-lists directories, browse our expert PRIVATE MILITARY DIRECTORY. >>GO

New directories : Military Hardware and Software, Transport (including stand-alone private military flight training facilities), Field Language services , Insurance aimed at private military and security personnel, and Development Assistance and Finance.

ADVERSE PRIVATE FORCES
A dichotomy in the private realm has emerged whereby PMCs/PSCs legitimately work alongside state forces and multilateral actors while deterring or counteracting the predatory advances of Adverse Private Forces (APFs): terrorist organizations, rebels and insurgents, pirates, mafias, and drug trafficking organizations. Critical global security issues in which PAFs and PMCs find themselves involved are also covered in this new segment: e.g. Food Security, Climate Change, Conflict Minerals, Exploitation of the Arctic Region, the South China Sea Conflict, Child Soldiers, and Chemical Warfare.
· BOSTON MARATHON TERRORIST ATTACK ( April 16, 2013): What we know about the Boston Marathon bombing and its aftermath: CNN, April 30, 2013: GO>> | A brief history of terrorist attacks in Boston: Foreign Police, April 15, 2013: GO>>
· NUCLEAR NORTH KOREA: El deber de evitar una guerra en Corea. Por Fidel Castro Ruz, Diario Granma, Abril 4 de 2013: TEXT | U.S. to send missile defenses to Guam over 'clear' North Korea danger, Defense Chief Hagel says. " Reuters, April 3, 2013: TEXT | PICTURE North Korea says it's in "state of war" with South Korea, Fox News, March 30, 2013: TEXT | VIDEO
· INSURGENCY AFRICA : UN must avoid past mistakes in new Democratic Republic of Congo mission. By Professor Ray Murphy, Irish Times, April 4, 2013: TEXT
· MILITARY COUPS: Central African Republic: Betrayed. Times Live, March 27, 2013: TEXT | PICTURE | 13 South African soldiers killed in CAR: BBC News, March 25, 2013: TEXT
· DRUG TRAFFICKING : Colombian police seize cocaine stashed in bricks. BBC News, March 24, 2013: TEXT | PICTURE
· CONFLICT MINERALS: Democratic Republic of Congo attack hits mineral transport. The Financial Times, March 24, 2013: TEXT | PICTURE
· CYBER CRIME: China military linked to hacking attacks. The Financial Times, February 19, 2013: TEXT | PHOTO
· CYBER WARFARE: South Korea on alert for cyber-attacks after major network goes down: The Guardian, March 20, 2013: TEXT | VIDEO
· AL-QAEDA/AQIM: Islamists say they hold 41 hostages after Algeria raid: Channel 4 News, January 16, 2013: GO>> | Algerian government: some hostages killed and injured: Channel 4 News, January 17, 2013: GO>>
· MALI REBELLION French citizens among radical fighters in Mali, minister says: CNN, March 8, 2013: GO>> | 9 questions about Mali you were too embarrassed to ask: Washington Post, January 16, 2013: GO>>
· SOUTH CHINA SEA CONFLICT: · To Counter China, Japan and Philippines Will Bolster Maritime Cooperation: The New York Times, January 10, 2013: GO >>

New mercenaries?: List of Military Units of foreign or international constitution.

Private or civilian security?: List of civilian security programs and initiatives. MORE >>
---

ORGANIZATIONS
Directory / List of International and Non-governmental Organizations (IOs and NGOs), Regional Organizations (ROs), Governmental Sites, and Research Organizations & Institutes and Think-Tanks: all focusing on issues related to military and security contracting and the convergence of development and security. MORE >>
· Engaged in accreditation, training, and self-regulation: Private Security & Military Companies Professional Associations. >>GO
· Maritime Organizations: dealing with the threat posed by piracy and terrorism on ports, maritime boundaries, and shipping routes. >>GO

RECRUITMENT
We offer guidance that we hope will assist you in finding a fulfilling, exciting, and well-paid private security or military job: international, regional or specialized, as CivPol, through agencies, or by joining state forces.
---

ABOUT PrivateMIlitary.org, a private, independent, and non-profit initiative since 1999. MORE >>

CONTRIBUTE Link your firm, organization, or publication: MORE >>

PUBLICATIONS
Books: hot on the press 2008-2013 titles, other recent books, earlier bibliography, older classics, key Iraq conflict titles, and Kindle books (and readers). Find a broader selection in our thematic and easy-to-browse >>BOOKSHOP
Reading list: Academic & Research Papers, Legal documents & Official Reports, Newsletters & Periodicals, News Articles, and PMC/PSC Industry Opinion & Research dealing with issues inherent in the privatization of security and military outsourcing trends, in the era of globalization and ongoing global instability Our emphasis is on free-access publications. MORE >>
SPOTLIGHT ON THE NEWS & DEBATED ISSUES:
· Liberia: "Policy Think Tank or Exiled Political Mercenaries?" AllAfrica, May 8, 2013 : GO>>
· DynCorp restructures into three business units: Washington Post, May 5, 2013: GO>>
· DynCorp International Hires More Than 7,300 Veterans as Part of White House Joining Forces Initiative: Wall Street journal, April 30, 2013 GO>>
· US: 15 Companies That Profit From Border Security: ABC News, Abril 15, 2013 GO>>
· As cities lay off police, frustrated neighborhoods turn to private cops: Christian Science Monitor, April 5, 2013: GO>>
· Bristow to Operate U.K.'s Finmeccanica Rescue Helicopters: Bloomberg, March 26, 2013: GO>>
· IRAQ - 10 YEARS: Contractors reap $138bn from Iraq war: Financial Times, March 18, 2013: GO>> | Turkey emerges as true Iraq war victor: FT.com (CNN), March 13, 2013 GO>> | MORE at out IRAQ 10 Years archive
· FBI's demands for private data struck down by federal court: The Guardian, March 15, 2013: GO>>
· Indian police launch raids in Finmeccanica defense deal probe: Reuters, March 15, 2013: GO>>

G4S profits tumble on Olympics failings: The Guardian, March 13, 2012: GO>> | Further coverage at our G4S-Olympics Security news archive.
· Canada spent $10 million for security at Afghan dam project: Toronto Star, March 13, 2013: GO>>
· Australia struggles with bloated defense contracts: UPI, March 8, 2013: GO>>
· Defense Contractors Convicted in Navy Bribery Scheme: NBC San Diego, March 5, 2013: GO>>

EADS-BAE failed merger: EADS Rules Out New Merger Talks with BAE: Aviation International News, March 1, 2013 GO>> | MORE at our EADS-BAE news archive>>
· Time to Put Private Security Contractors Under the Gun: Huffington Post, February 28, 2013: GO>>
· Amazon fires German security firm Hensel European Security Services: Financial Times, February 19, 2013: GO>>
· Finmeccanica boss Orsi steps down amid corruption probe - Sale of helicopters to the Indian government. BBC News, February 15, 2013: GO>>
· Bigger than the army: South Africa's private security forces: CNN, February 8, 2013: GO>>
· South Africa charges Democratic Republic of Congo 'rebels for coup plot.' BBC News, February 7, 2013: GO>>
· Security firms eye African 'terror' bonanza. Asia Times: January 30, 2013: GO>>
· Nestlé and Securitas AG found liable over spying on NGO: Financial Times, January 30, 2013: GO>>
· Canada: DND looks to privatize management of properties and installations: Ottawa Citizen, January 28, 2013: GO>>
· No US peace dividend after Afghanistan: Financial Times, January 24, 2013: GO>>
· Foreign Firms in Algeria Boost (Private) Security: Wall Street Journal, January 17, 2013: GO>>
· Contractors killed, wounded, and taken hostage after militants take western contractors hostage in Algeria raid: The Guardian, January 16, 2013 GO>>
· AAA British Private Security: The UK Private Military Industry by 2020: April 16, 2013: >>GO
· The British Ceremonial Army: A Shrinking Force in an Age of Uncertainty: March 1, 2013: >>GO
· Made in China: a perilous cycle: February 3, 2013: >>GO
· Adverse Private Forces vs Private Military-Security Companies in Security Parnerships: January 18, 2013: >>GO
· Automatic spending cuts - Sector Snap: Defense Contractors, Bloomberg Businessweek, March 6, 2013: GO>>
· US House committee approves transportation security bill:: Government Security News, June 7, 2012: GO>>
· Ships Deter Pirate Stalkers by Signaling Armed Guards' Presence: Bloomberg BusinessWeek, May 22, 2012: GO>>
· Overfishing Ourselves out of the Maritime Industry and Defense of the Homeland: Forbes, December 16, 2011 GO>>
· G4S must bear the cost of its Olympic failure, say MPs in new report. UK Parliament, September 21, 2012: GO>>
· G4S-Olympics 2012 | UK Home Affairs Committee questions G4S on Olympic security: July 17: WEBCAST
· US House of Representatives: Warlord, Inc. Extortion and Corruption Along the U.S. Supply Chain in Afghanistan, 22 June 2010: >>GO (htm) | PDF (3.14MB)
· DOD:

2010 Quadrennial Defense Review (QDR)

, Feb. 2010: >>GO
· Mandiant. APT1. Exposing One of China's Cyber Espionage Units. February 19, 20132: PDF
· G4S. Statement regarding Home Affairs Committee Report into Olympic security. September 21, 2012: GO>>
· Hired Guns. Views About Armed Contractors in Operation Iraqi Freedom. RAND, 2010: GO>>
· G4S 'warned' over killer security guard Danny Fitzsimons. BBC, October 1, 2012: GO>>
· G4S-Olympics 2012 | UK Home Affairs Committee questions G4S on Olympic security: July 17: WEBCAST
· G4S release cringeworthy corporate power ballad. The Telegraph, July 20, 2012: click here
· Simon Mann - Mercenary: BBC Hardtalk, 21 December, 2011 (available until Dec 26): >>GO

Find us at
YouTube
and join our PrivateMilitary Group:
SNEAK PEEK
>>
Topical issues: Development and Security, Private Security Regulation, and Private MIlitary History. For contributions to these sections, e-mail us at: i...@privatemilitary.org. Be patient, we have huge e-mail traffic and takes time to deal with the ever growing number of requests.
---

RESOURCES
Focusing on Military & Security issues, Military Terms & Acronyms, Maps and Satellite Imagery, Language Tools, Charity and Campaigns, Discussion Forums and Conferences, and Adventure: resources aimed at researchers and civilian contractors heading to (post-) conflict zones. MORE >>
FEATURE RESOURCES :
· TurboTAP: the official US Transition Assistance Program. MORE>>
· Supporting Britain's Reservists and Employers (SaBRE). MORE>>
· Powering up Smallholder Farmers to Make Food Fair: MORE>>
· Forest Peoples Programme: working to create political space for forest peoples to secure rights: MORE>>
· Not On Our Watch: committed to robust international advocacy and humanitarian assistance: MORE>>
EVENTS

NOTICE: We are currently upgrading our Companies templates and updating and expanding our listings. We are also populating our new Adverse Private Forces sections!

·ISSE (Information Security Solutions Europe) 2013: Brussels, Belgium, October 22-23, 2013: MORE>>
· DSEI (Defense & security Event) 2013: London, September 10-13, 2013: MORE>>
· 3rd Annual Combating Piracy: West African Maritime Security: Lagos, Nigeria, July 9-12, 2013: MORE>>
· IFSEC South Africa 2013: Johannesburg, South Africa, June 18-20, 2013: MORE>>
· Mast (Maritime Systems and Technologies) Europe 2013: Gdansk, Poland, June 4-6, 2013: MORE>>
· IFSEC International 2013: Birmingham, UK, May 13-16, 2013: MORE>>
· OIL & GAS LIBYA - the International Exhibition & Conference for the Regeneration of Libya's Oil, Gas and Petrochemicals Sector: Tripoli, Libya, 22-25 April 2013: MORE>>
· Counter Terror Expo 2013: London, 24-25 April 2013: MORE>>
· 12th Annual Security Conference: Las Vegas, April 10-12, 2013: MORE>>
· Underwater Defence & Security 2013: Portsmouth, UK, February 26-27, 2013: MORE>>

· 3rd Annual ITAR Compliance Conference: Aligning Internal ITAR Compliance Processes to Meet Evolving Regulations for Improved Operational Efficiency: Alexandria, VA, February 11-14, 2013: MORE>>

· Ivy League Model United Nations Conference: Philadelphia, January 24-27, 2013: MORE>>
· 2013 Vienna UN Conference: Have the United Nations Agencies Adapted to the 21st Century?: Vienna, Austria, January 9-11, 2013: MORE>>
London 2012 Olympics: 27 July - August 12, 2012: MORE>>

· UK: Public Consultation on 'Code of Conduct' for Private Military Companies. April-July 2009 ; Read the FCO Statement | Read our Initial Assessment

· 2013: PrivateMilitary.org celebrates its 14th anniversary!

To promote your event, contact us: i

...

@privatemilitary.org

DAILY NEWS

BIBLIOGRAPHY
Victory for Hire: Private Security Companies' Impact on Military Effectiveness. By Molly Dunigan, Stanford Security Studies, 2011.
---
· Private Armed Forces and Global Security: A Guide to the Issues. By Carlos Ortiz, Praeger, March 2010. About the book I Table of contents | flyer | Kindle edition
---
· States, Citizens and the Privatisation of Security. By Elke Krahmann, Cambridge University Press, 2010.
---
· Private Security Contractors and New Wars: Risk, Law, and Ethics. By Kateri Carmola, Routledge, 2010.
---
· Halliburton's Army: How a Well-Connected Texas Oil Company Revolutionized the Way America Makes War. By Pratap Chatterjee, Nation Books, 2009. [1 edition, buy soon]
---
· Outsourcing Peace?: The United Nations' Use of Private Security and Military Companies. By Åse Gilje Østensen, VDM Verlag, 2009.
---
· Privatising Peace: A Corporate Adjunct to United Nations Peacekeeping and Humanitarian Operations. By Malcolm Hugh Patterson, Palgrave Macmillan, 2009.
---
· Executive Outcomes. Against all Odds. By Eeben Barlow, Galago, 2007. About the book | About Barlow and EO
---
· Private Military and Security Companies. Chances, Problems, Pitfalls and Prospects. Edited by J. Thomas, and K. Gerhard. Wiesbaden, VS Verlag für Sozialwissenschaften, 2007. About the book | Chapter outline
---
| | |
| --- | --- |
| | DEBATE REJOINDER: Private Armed Forces and Global Security: PMCs CAST ANEW: MORE>> |